Get the "Scoop" below on a recent Cairo High School PBIS Student of the Week, Gerald Simmons. Congratulations to this student for being an outstanding Maker and demonstrating positive behavior and character!
---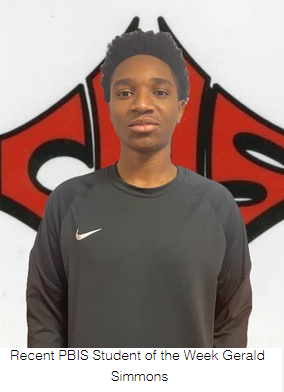 Fifteen-year-old Gerald Simmons is a freshman here at CHS who lives with his parents at the Florida/Georgia line. He was nominated for PBIS Student of the Week by Business Education teacher Mrs. Amber Childs.
Mrs. Childs told the Red & Black that she nominated Gerald for his "model behavior" and for being "respectful and kind."
Gerald told the Red & Black that his favorite subject is biology and that his favorite teacher is science teacher Ms. Royale Armstrong.
Outside of his academics, Gerald is a member of both the CHS football and wrestling teams. In his free time, he enjoys being outdoors and watching television. His favorite thing to do is watch football, and his favorite team is the Los Angeles Rams.
After graduating from Cairo High School, Gerald plans to go to college, and he hopes to attend Louisiana State University in Baton Rouge.
_______________________________
Every Friday during the school year, Cairo High School Principal Chris Lokey and Assistant Principal William Huff name a "Positive Behavior Intervention Support [PBIS] Student of the Week," a CHS student recognized by faculty or administration for modeling positive behaviors to fellow students.
Each week's winner is chosen randomly from the "golden drum" located in the main office containing "MAKER Bucks," rewards given to students who exemplify parts of the "MAKER Matrix": M – Model Behavior, A – Accountable, K – Kind and Respectful, E – Excellent Attendance, R – Responsible.
PBIS Students of the Week are recognized during the school's morning announcements and given a certificate of acknowledgment and gift certificate to Mr. Chick.
Congratulations once again to Gerald! Get to know more outstanding students and faculty members of CHS by visiting the Red & Black's Scoops page here.